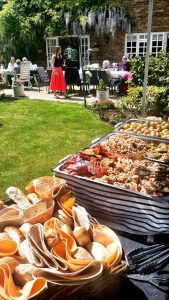 If you are looking for an unbeatable hog roast experience for your event in Sherborne, you will find it here at Hog Roast Sherborne. Our traditional cooking technique and modern catering menus provide the winning formula when it comes to mobile catering in Dorset and our ability to cater in any location in the Sherborne area means that you can host your event in the most convenient location for you or in a place that is special to you, whilst being safe in the knowledge that you will receive freshly made food that will be a big hit with all of your guests.
Expert hog roast event catering in any location
Sherborne is a lovely market town in Dorset that is steeped in history and culture, with many interesting events taking place throughout the year, including its annual film, literary and classical music festivals. As anyone who has ever organised an event in Sherborne knows, there are always so many elements to plan that need to come together on the day and making the right choice when it comes to the catering for your event, is always a key decision.
As one of Sherborne's most experienced mobile catering companies, the Hog Roast Sherborne team are here to help. We are equipped to provide any type of catering package for any number of guests just about anywhere in Sherborne. If you require crowd-pleasing catering in a large-scale outdoor environment, a refined wedding menu in a marquee setting, a vibrant buffet for a corporate event at your business premises, or some fantastic food for a fun-filled family party at an indoor venue in Sherborne, we are capable of catering to an excellent standard in all of these settings and more.
Freshly made food anywhere in Sherborne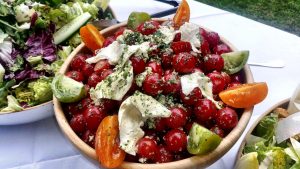 Not only are we able to cater across such a broad range of locations in Sherborne, we will also make everything on your menu from scratch when we get there. We will arrive a few hours before you require the food to be served so that our chef can get the delicate cooking of our pork underway whilst our catering assistants will be busy rustling up the rest of the dishes you have asked us to provide.
We are committed to using only the best locally sourced produce, baked goods, organic fruit and veg, and free-range dairy products in all of our dishes. If you request an alternative meat or a second meat option for your guests, you can rest assured that it will be just as high in quality as our pork.
A service style that meets your needs
As well as offering you the best hog roasts in Sherborne and the option to have a whole range of diverse dishes alongside our superior slow cooked pork, the Hog Roast Sherborne team also offer the same degree of flexibility in the type of service that we can offer you for your event.
Our catering packages offer you the option of either a laidback dining experience with your food being presented as a buffet, or a more formal 3-course meal with table service. Our versatile catering team and experienced events staff are able to provide conscientious and courteous service delivered in a way that is most appropriate for your event and the ambiance that you want to create.
If you would prefer a buffet, our on-site team will ensure that everyone is treated to generous portions of dishes of their choice and that no one has to wait long before they are able to tuck in. If you feel that a sit-down meal is more suitable for your event, our front of house and waiting staff will offer you and your guests a warm greeting and assist you in finding your seats before going on to provide attentive table service.
We are also able to provide a canape welcome reception, with platters of our handmade canapes, which will also be freshly prepared on the day. No matter which style of service you prefer, our team will go the extra mile to make sure everyone has a great time, and we will take excellent care of everyone from start to finish.